13 January 2010
17 December 2009
Hold on to your hats, ladies and gentlemen. It's time for LiLu's TMI Thursday!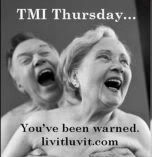 I'm writing this on Tuesday because well, because it happened last night. I'd like to keep all the details fresh.
Last night, after I got home from work, I decided to take a bath before meeting my mom for dinner. For those of you who know me, you know how much I love a good bath. I had about an hour, so I settled in with a book for a good soak.
Of course, in the middle of it, I had to get out and poop, but that's a whole different TMI story. Probably one that doesn't need to be told.
Anyway, I finished my bath, but instead of reaching down to unplug the drain while I was still sitting in it, the way I normally would, I just...got out of the tub. With all the water still sitting in it.
I realized my mistake as I was drying myself off, so I went to the side of the tub where the drain is located, so I could lean down and unplug it.
Sounds simple, right? But here's the thing. My skin was still all wet. And my shower curtain is vinyl. It was basically like sitting in a car with vinyl seats on a hot summer day. My skin stuck to the shower curtain like a tongue to a frozen metal pole. All of my momentum was carrying me forward. I lost my footing and proceeded to fall, head first, back into the tub. Pulling the shower curtain into the tub with me, but somehow not ripping it from its metal loops on the rod itself.
It took me a few minutes to come to terms with what had just happened and then a couple more minutes to untangle myself. I got out of the tub, dried myself off and realized...I still hadn't unplugged the drain.
15 December 2009
14 December 2009
10 December 2009
09 December 2009
08 December 2009