Hold on to your hats, ladies and gentlemen. It's time for LiLu's TMI Thursday!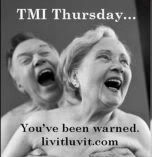 Today is my 30th birthday. WTF? How did this HAPPEN?
Boys? Feel free to skip this one. It's about going to the GYN. (That's gynecologist, for those of you who didn't bother to read the title.)
A little over a year ago, I found a super great awesometastic gynecologist. I'd tell you his name, but I don't remember it.
And therein lies the problem.
I can't remember his name. Which makes it really hard to make an appointment. I do remember where he practiced, so I went online to look him up, just knowing that if I heard the name, it would trigger my memory.
It didn't. Or else he's not there. I'm pretty sure he's disappeared off the face of the earth. So after a small freak out, I set about the business of finding a new GYN. Fun!
This, of course, involved asking all my friends for referrals.
I quickly realized that all gynecologist's offices, if not all doctor's offices, have incredibly long, convoluted answering machine thingamabobbies that make very little sense. Could you at least go in numerical order, guys?
The first lady parts doctor I called wasn't accepting new patients at all. Apparently she has all the business she needs.
The second womanly doctor was accepting new patients, but she didn't have any "new patient appointments" open until March. Thanks, but I'd like to not get pregnant in the next three months.
The third woman didn't have any appointments until June.
The fourth wasn't accepting new patients.
The fifth had retired.
What the HELL, people? I feel like I'm in Hollywood and trying to get an appointment with the latest and greatest waxer or hair stylist or something. You poke around in people's vaginas.
Luckily the woman who retired worked in a group, so I managed to get an appointment with one of the other doctors at the end of the month. Whew.
Now I just have to deal with all my anxiety about having a new lady in my parts. I almost had to resort to Planned Parenthood.
I don't know how many of you have ever used Planned Parenthood for your basic gynecological needs, but...it's not very pleasant. At least, my experience never has been, and I went for years.
I had one doctor tell me that if I was so worried about getting pregnant (after I asked her a simple question about trying a new method of birth control. Something along the lines of, "How effective is this, compared to the pill?"), I should probably just not have sex. Um, dude. You're PLANNED PARENTHOOD. I asked you about BIRTH CONTROL. You should be thrilled that I'm responsible.
Then there was the doctor who acted like I was some sort of sinner and she would have to cast out the demons because I have...SLEPT WITH MORE THAN ONE PERSON.
Then there was the doctor who didn't bother to, ya know, even TRY to be gentle with my girly bits. That one was the worst.
In related news, I hate the gynecologist. I just want my awesome dude back. No, that's a lie. What I want is to be a dude and not have to worry about this crap. What I want is to not be forced to go have my business poked and prodded just because I don't want to get pregnant. I'm being RESPONSIBLE and for that? I'm forced to go have my bits checked out once a year, for which I have to pay, then I have to pay for my prescription for birth control.
What I really want? Is to have my tubes tied, but I'm not allowed to make that decision until I'm 35-years-old. Which, let's face it, is coming at me like a freight train. Now, I love being a girl, and I wouldn't trade it, but let's stop with the inequality where this shit is concerned, mkay?