Hold on to your hats, ladies and gentlemen. It's time for LiLu's TMI Thursday!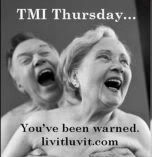 When I was
on the drugs
a couple of weeks ago, I might have decided it would be a good idea to record a video of myself.
Now, it's my wedding gift to
LiLu
and
Maxie
.
It's disturbing on more levels than one. Good luck.