Hold on to your hats, ladies and gentlemen. It's time for LiLu's TMI Thursday!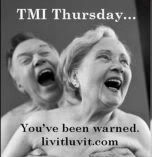 Disclaimer: Despite what you may think after reading this story, I AM a good cook. I promise.
A few years ago, I moved in with a boy. It was pretty much my first (and last) time ever to do so for any length of time. I had sort of lived with my high school boyfriend for a few months and I had kind of lived with my first Dallas boyfriend briefly, but technically he had his own room and we had another roommate. And when we broke up, we still had to live together. THAT was fun.
So anyway, on a bright shiny day in December, I began the process of cohabitation. And yes, I do mean BRIGHT AND SHINY. We had a heat wave and it was nearly 90 degrees the entire time we were moving. I was only moving from about a half mile away and he...well, he didn't really have much stuff.
Our apartment was wonderful, still one of my favorite apartments, despite the two soccer players who moved in upstairs and tortured us until all hours of the night. We had a pretty sizable balcony, on which we put my old breakfast table.
On our first weekend, I got up early. I was going to surprise him with "breakfast on the balcony."
I decided to make eggs, sausage or bacon (I can't remember which), and pancakes. From scratch. No Bisquick for this girl. I set up the table outside, started the coffee and then pulled out all of the ingredients for the pancakes. Everything turned out beautifully. I poured the coffee, put the food on the plates and took everything outside.
He took his first big bite of pancakes and got this funny look on his face.
"What's the matter?"
"They taste kind of...
funny
."
So I cut off a piece of mine, forked it up, and shoveled it in my mouth. My mouth exploded with the flavor of salty, syrup-covered hairspray. I spit my pancake out into the courtyard below our apartment and said,
"THE PANCAKES ARE BAD."
He said, "They're not that bad," and started to take another bite.
I said, "STOP EATING THEM. THEY'RE TERRIBLE."
I couldn't figure out what I had done. I followed the recipe exactly.
Then I went into the kitchen. Immediately, the problem was clear. Instead of baking
powder
, as the recipe suggests, I accidentally grabbed the baking
soda
.