Hold on to your hats, ladies and gentlemen. It's time for LiLu's TMI Thursday!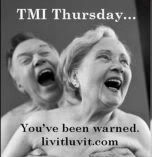 When I was 11-years-old, my mom moved me and my sister from Nashville, Tennessee to Honolulu, Hawaii. The whys and hows are long and boring.
We lived in Honolulu for a year. (I know what you're thinking…no, it wasn't really awesome.) During that year, my mom and my (now) step-dad tried their hands at a few tropical hobbies, like scuba diving.
This also happened to be the year that my uterus decided to start releasing eggs or whatever, so I could make the babies. Apparently my uterus thinks I'm Mormon or in a cult or something.
Dear uterus,

I do not want to make the babies. I certainly didn't when I was 11. Please fall out and die and stop making me bleed every month. This is getting ridiculous.

Love,
Shine
Now that we've gotten that out of the way…
On the blessed day, I was home
alone with my (now) step-dad.
Let's just say that he wasn't on my list of favorite people. And here I am, bleeding from my tiny girl parts with barely a clue as to what's happening to me.
I asked to call my mother, he asked why. I said, "I just want to call Mom,
okay
?"
I called my mom at the hospital (she's a nurse) and explained what was going on in hushed tones. She laughed and told me it was just my period and no big deal. Turns out I wasn't dying after all. I didn't want her to tell my (now) step-dad because I was horrified about the whole thing.
She said she wouldn't tell, but she would have him bring me to the hospital so she could give me some stuff.
Yes, I'm the only kid probably in the history of the world who actually had to go to the
hospital
for her first period.
I handed the phone back to my (now) step-dad and of course my mom proceeded to tell him what happened.
He turned to me with a big shit-eating grin on his face and said something horrible like, "I hear someone's becoming a woman!"
Gross.
I immediately burst into tears.
The ride to the hospital was silent. We found my mother and she took me to the bathroom. Apparently the only "supplies" they had at the hospital were the, uh,
GIANT PADS
they give the pregnant women
AFTER CHILDBIRTH.
It was almost as tall as me, and nearly as thick as my arm. And I was supposed to fit it in my pants…
I waddled out and my (now) step-dad took me home.
Over the next couple of months, my mother suggested I try to use tampons. That was a no-go. At the ripe old age of 11, my vagina was a steel trap. And it did NOT want to be stuffed with cotton. So every month, when I got my period, I couldn't swim.
One of said weekends, my mom and my (now) step-dad were going scuba diving. I went along to hang out on the boat. Some of their friends were there, and one couple brought their 18-year-old son.
Their drop-dead gorgeous (mind you, I was 12, at this point…) 18-year-old son. I fell in love on the spot. I had no plan, but I knew that we should get married and make many babies (And I could! I started my period!). I'm guessing he didn't even really notice me. At first.
As we're heading out on the water, the beautiful boy's mom asked my mom, "Is Shine going to be snorkeling?"
Now, this would be a time when a simple "no" would suffice.
Instead, my mother said (
right in front of the beautiful boy
), "No, Shine is on her period. She hasn't learned how to use tampons yet, so she can't get in the water."
Cue red face.
I don't think I spoke a word for the rest of the trip.
Thanks, Mom!