Hold on to your hats, ladies and gentlemen. It's time for LiLu's TMI Thursday!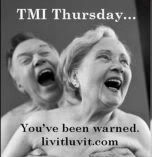 A while back, something strange happened to me in a Kinko's parking lot. You may or may not have already read about it (sorry!). It really falls into the TMI category, so...
Please to
click here
.
Also, I know everyone in the universe has probably already seen this since that's the way it always goes with me and YouTube, but this? Made me giggle ALL DAY yesterday.