Hold on to your hats, ladies and gentlemen. It's time for LiLu's TMI Thursday!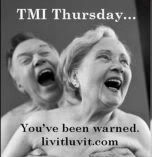 Okay, so I had another post all lined up about some lame softball failure. Then, somehow, while talking to
Just A Girl
, I managed to let slip that I had...um, done something TMI-worthy not too long ago.
Mom, Aunt Kim, um, other relatives and/or coworkers who aren't my sister? Please stop reading now. Seriously. I take no responsibility for your discomfort if you keep this up.
Last chance.
Stop.
NOW.
Okay, at this point, it's on you.
So I have a rabbit. No, I don't mean the cute, cuddly, furry kind. I mean (
and this is NSFW. Really.
)
this kind
(except it's orange).
A small while ago, I was...playing with said rabbit. Playing? You know what I'm talking about.
(As a side note, all of this really works better for me if I'm...on top. Even where a toy is concerned. This may or may not be important information.)
Suddenly, I heard a crack. At a crucial moment, if you catch my drift. And the whole thing just stopped. Cold.
I almost cried.
Upon further inspection, I discovered that in my, ahem...excitement, I had actually broken my rabbit.
No, no. It wasn't worn out. Though I've had that problem on many an occasion. What?
This time I had broken it. Nearly in half. The part that houses the batteries was hanging on by a thread.
Sadly, I did not take a picture. So I give you this MS Paint rendering:
Vibrator FAIL.