Hold on to your hats, ladies and gentlemen. It's time for LiLu's TMI Thursday!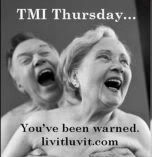 (This is really gross. I'm just going to warn you now. It still makes me puke in my mouth a little. I don't think I've ever actually managed to tell this story in its full glory. Please don't hate me.)
I used to work retail. A lot of retail. My services (hehe) have graced establishments such as Sam Goody, American Eagle Outfitters, Lids (the baseball cap store), and some shoe store in a horrible outlet mall where I swear they just used a dump truck to dump all the shoes in there without a concern about having them in pairs. Ugh.
But possibly my worst retail experience was at
Kohl's
. I don't know if you have them where you live, but they're a discount-ish department store, kind of like Target, but without the groceries.
My title? Department Supervisor of the Lingerie Department. Sounds sexy, right? No.
I'm sorry to burst your bubble here, boys, but
WOMEN ARE NASTY
. Okay, not all of us are nasty, but the nasty ones more than make up for any nastiness lost by us normal girls.
Basically, it was my job to make sure that all the bras and panties and sexy nighties and pajamas found their homes on hangers and that all the dressing rooms were clean. By the way, I wouldn't hang up a bra now if you paid me money to do it (I probably would).
I don't know about the rest of you, but I don't try on underwear. I know what size I wear and I buy that size. If I get it home (wash it) and try it on and it doesn't fit, well, I'm just out that money. Not all women feel this way.
NOTE:
If you're a woman and you're reading this, when you buy underwear WASH IT BEFORE YOU PUT IT ON. Trust me on this one.
I had to keep a stash of gloves in my little podium because I was constantly finding tried-on underwear in the dressing room. AND I'M NOT TOUCHING THAT WITH MY BARE SKIN.
Gross
.
Then I started finding dirty, used, pre-owned underwear in the dressing rooms with the empty hangers from the brand-new, clean(ish) underwear that had been stolen.
The last straw?
I walked into the dressing room and was hit with a wave of stench in the air. I gagged and walked back out. But really, no one was going to deal with whatever it was but me. So I trudged back in. One by one, I opened the dressing rooms and peeked in. Expecting to find some small, dead mammal. Oh, how I would have preferred that to what I actually found in the last stall.
It seems the last woman in the dressing room was having a visit. From her Aunt Flow. A really really really really really big visit. Like someone climbed up into her uterus and used a Samurai sword to shred it big one.
In the dressing room, I found her underwear, which was soaked clean through. Her
used tampon
. And her old, worn, and...distinctly-more-red-than-anything-else pants. And a GIANT red spot on the carpet.
She had taken clothes and underwear from various departments and apparently decided that
my
dressing room was the place to change.
I nearly puked, turned, and ran. I found my manager and explained. I was told that I needed to start cleaning it up. I quit.