Hold on to your hats, ladies and gentlemen. It's time for LiLu's TMI Thursday!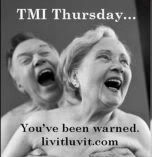 In a new relationship, there are always some adjustments to be made. I like to watch TV when I fall asleep, he doesn't. He likes to keep his syrup in the fridge, I don't. You know the drill.
The biggest of these (hopefully) is poop. Not only am I not a big fan of sharing the bathroom with ANYONE, I don't want anyone smelling my poop, I don't want anyone to know I'm pooping, I don't want to poop in someone's bathroom, etc. I'd rather we all just pretend that pooping? Is not something I do.
Now, I've been around enough men to know that pooping isn't really as big of a deal to them. And by the way, thanks guys. I really do love to smell your poop in the morning. Or the evening. Or all afternoon while I'm working. It's awesome.
Well, Princess and I have been spending a lot of time sleeping in the same place. For warmth and the whatnot. You understand what I'm saying. Interestingly, neither of us is really willing to poop while the other is around. I was raised in the South with Southern Manners and all that, so technically I'm not even supposed to talk about my poop. You'll notice that lesson didn't really stick. At first, I thought I'd just be clever and suddenly have to "go home" for something.
So I could poop
. Of course that leads to all kinds of questions and eventually I just had to say, "Look. I have to poop. And I'm not doing it here."
One morning, things were getting really rough. I had to poop REALLY bad. I'm pretty sure I said, "Uuuhhhhh...I have to poooooppppp..." about a dozen times on the way to my place.
What I had yet to see, though, was Princess pooping. I don't mean see. Princess, if you're reading this,
please
. I never ever want to
see
you poop. Like ever. I mean it. Anyway, it was like the man never pooped.
Then one night, I woke up from a deep slumber (I'm like the soundest sleeper in the WORLD) to find myself alone in bed. Um, confusion, party of one. Then I looked over to see the light on under the bathroom door. Hmmmm...
It turns out that, all this time, Princess has been waking himself up in the middle of the night (he claims it's early morning, I claim those are pretty much the same thing) to take a stealthy poop. So I'd never be the wiser. But I am. I saw it. Again, I didn't see
the poop
. Just the evidence that the poop took place. Stick with me here, people.
This morning, when I went to pee, I noticed that, even though I was the last one to pee last night, there was a new roll of toilet paper waiting for me. (Yes, Princess does actually put a new roll of toilet paper ON the toilet paper holder every time it's empty.
I know
. He's mine, ladies.) When I came out of the bathroom, I glared accusingly at him and said, "Did you get up and poop in the middle of the night again?!"
He looked at me and said, "Yep." Cue knowing smirk.
Apparently, he's a morning pooper and he can't poop while I'm there (even though I leave for work before he does most of the time), so (because he's
this
regular) he's trained himself to poop before I wake up. Ya know, at like 3:00 am.
This led to an amusing conversation about super powers and that he should from now forth be called "Princess Poop Ninja" and how he poops so stealthily, no one will ever know it was him. Kinda like The Spleen from
Mystery Men
only...well, more subtle. And with a tiara.